I've been dying to try a nail salon here in Salisbury, but I wanted to make sure I could get all the services done that I wanted while I was there. So, while driving around one day I stumbled onto a new nail salon. I not only got my nails done, but I had my eyebrows waxed as well. SCORE! Since I'm a fan of red nails, I choose CND Shellac Wildfire nail color.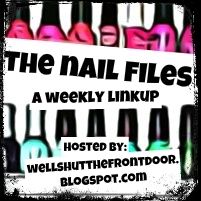 Linking up with Jennie from
Well Shut the Front Door!
, for The Nail Files link up.